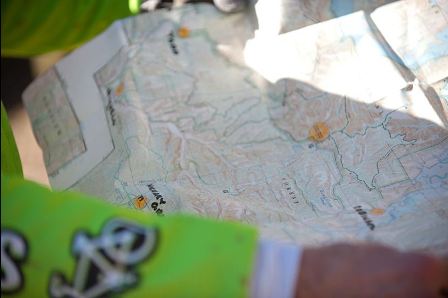 ~ What is the Death March?
The Death March is a bicycle race for teams of two to be the first to reach designated cemeteries in and around the Hoosier National Forest. The ride begins and ends at the Midwest Trail Ride Horseman's Camp (MTR) in Norman, IN. Teams will be required to reach five mandatory check-points, three of which are known in advance. The other two mandatory locations will be drawn from the list of optional check-points and announced at the Start/Finish line. Teams can use any route and can visit check-points in any order. Teams will be able to earn bonus time by visiting additional check-points along the way. Click here for the Death March Google Map.

~ What does my entry fee get me?
Death March participants get access to free primitive onsite tent camping at the Midwest Trail Ride Horseman's Camp, changing rooms and showers (weather permitting) for after the ride, two stationary sag supports with food, water and some mechanical assistance, FREE commemorative t-shirt, a hot, catered meal from Yats! Cajun Creole (meat, veggie and vegan options available) after the ride, one-day Hoosier National Forest pass for each team member and more! Participants 21 and over will also enjoy a beer tasting from Upland Brewing Company after the ride.
Additional event t-shirts are available for $15.00.
NOTE: THERE IS A $25 PICK-UP FEE FOR ANY TEAM NEEDING A RIDE BACK TO THE HORSE CAMP FOR REASONS OTHER THAN MEDICAL EMERGENCY OR MECHANICAL FAILURE.

~ Where does the race begin/end?
The Death March begins and ends at the Midwest Trail Ride and Horseman's Camp located at 1264 Hunter's Creek Rd., Norman, IN.
Click here for driving directions
.
Ample parking is available.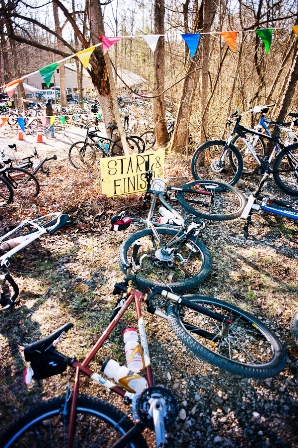 ~ What will the start be like?

Teams will have a mass start for the Death March and will line up for a mandatory rider meeting that begins promptly at 9:15 a.m. The clock will begin at 9:26 a.m., shortly after the announcement of the two additional mandatory check-points.
~ What will the course be like?

Teams should expect to encounter a combination of gravel road, rugged back-country mountain bike trail, unmaintained county roads and some pavement interspersed, covering an estimated 60-80 miles.

~ What type of bike can be used?

Riders have the option of using any bike they choose. Many will use cyclocross or mountain bikes. The entire ride must be done on the same bike.
~ Who can be on a team?
Teams consist of two riders. Riders can be of any age or gender.
No individuals. Teams must start and finish together in order for results to be included in overall placings. A new Parent/Youth Division has been added to the 2014 event. Youth must be 15 years of age or younger and must be accompanied by an adult at all times.


~ Will Parent/Youth teams be required to hit all mandatory check-points?
No. The rules for the Parent/Youth teams have been revised to help encourage the kiddos to be part of the fun! Parent/Youth teams will race to as many check-points as they can. There are NO MANDATORIES and NO TIME BONUSES. To keep things simple, winners will be those who hit the most number of check-points in the shortest amount of time.

~ Can teams ride together?
Absolutely. We don't care if you ride with a group or ride on your own. Just stick with your teammate and make sure you reach the check points together.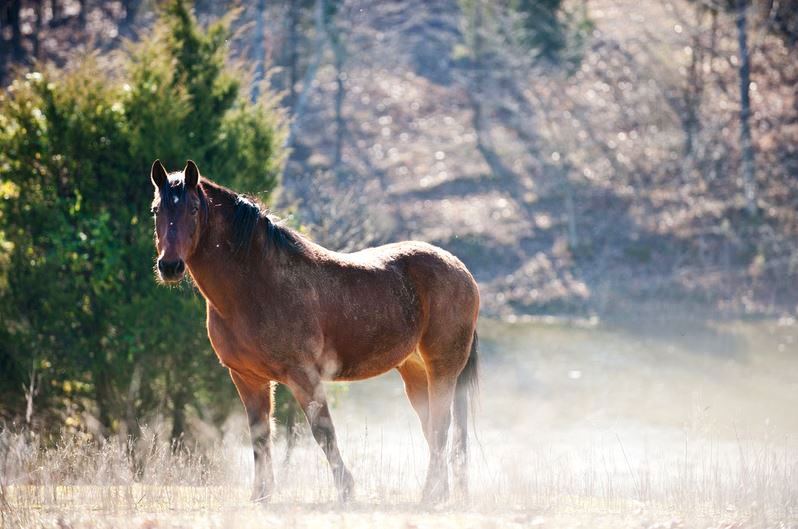 ~ What is the Equine Team entry?
The 2014 event will add a brand new "equine" team entry. THIS IS NOT A RACE.
The equine entry is a fun, casual ride to as many check-points as possible. Equine teams will still take a digital picture in front of the cemetery sign as proof of reaching the check-point, however, there are no mandatory check-points and no prizes for placing. This is just for fun! Equine teams should understand that this is predominantly a bicycling event that typically draws between 300 and 500 cyclists who will be racing for cash and prizes.

PLEASE MAKE SURE YOUR HORSE IS COMFORTABLE WITH BICYCLES BEFORE CONSIDERING THIS EVENT!
Team entry includes hot meal provided by Midwest Horse Camp for after the ride, "rolling" support vehicles, access to onsite changing rooms and showers (weather permitting), and one-day Hoosier National Forest bridal pass for each team member. All equine team members will be entered into a raffle at the end of the day for goodies and prize packs from our sponsors!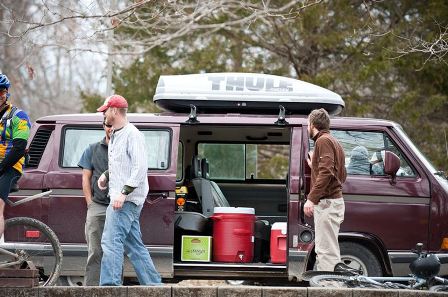 ~ Will there be SAG support? What should I carry with me?
A stationary sag will be available at the Hickory Grove Cemetery and Hickory Ridge Fire Tower, however, each rider should be well prepared to deal with the physical and mechanical problems that may arise. Participants should plan to carry with them any/all items they may need for the day. Each rider is STRONGLY ENCOURAGED to always have the following items available to them:

* Course maps
* At least 70 ounces of water
* Hand pump or at least two C02 cartridges and an inflation device
* Tire levers
* Patch kit (glueless patch kits are easier to use in the woods)
* Chain tool (and the knowledge to use it)
* Full set of metric Allen wrenches (1.5, 2, 3, 4, 5, 6 and 8mm)
* Standard and Phillips screwdrivers
* Torx T25 wrench if you have disc brake rotors
* Compass (and the knowledge to use it)
* Rag
* Chain lube
* Spare chain links
* Spare derailleur hanger for your make and model of bike
* Food or energy supplements
* Small first aid kit
* Emergency light source (LED lamps are tiny, lightweight and long lasting)
* Identification (driver's license, state ID, etc.)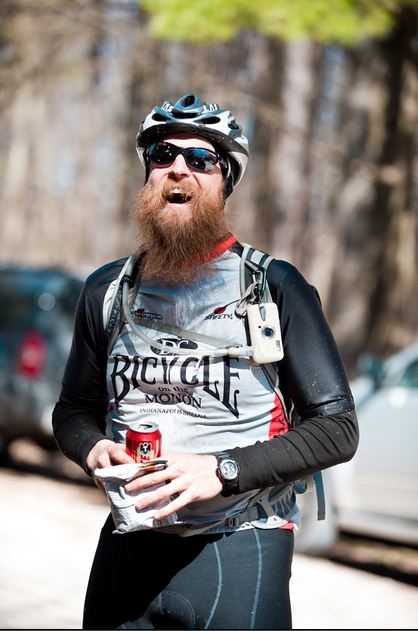 Other items that are darn good to have:
* Pocket knife of "Leatherman" tool
* Duct Tape (carefully wrap 2-3 feet around an ink pen or Allen wrench)
* Several strong nylon zip ties
* SRAM power links for quicker chain fixes
* An old spoke cut in half and bent on each end to hold your chain together while fixing it
* A safety whistle to blow if you get in trouble. Cell reception is iffy at best. A safety whistle is your best backup in case of emergency.

~ When will winners be announced?
Winning teams will be announced 30 minutes after the top three team in all categories have returned to the start/finish area. Results will be posted on event website within 48 hours. Prizes will be awarded to top three finishing Men's, Women's, Co-ed,Tandem and Parent/Youth teams. A $300 cash prize ($200 for Parent/Youth) and free entry to the 2015 event will be awarded to the first place team in all five divisions. Note: A minimum of five (5) teams must be entered in a division for 1st Place cash payout.